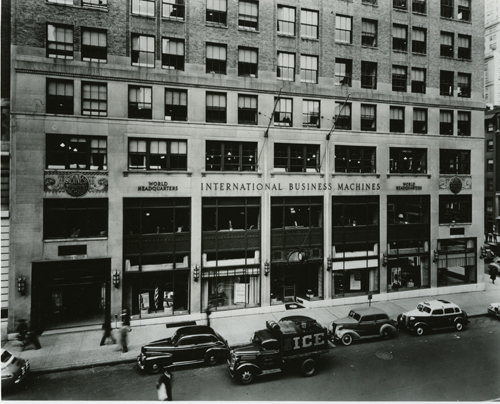 Title
IBM headquarters building in New York
Description
This is a black and white image of the IBM headquarters building from the front view. This is a multi-story building with an IBM logo displayed at each end of the building facing the street. The building is labeled "WORLD HEADQUARTERS INTERNATIONAL BUSINESS MACHINES WORLD HEADQUARTERS". There are six cars parked along the side of the street and a truck carrying ice is driving past the IBM building. This is a daytime shot with light coming from overhead. There are several people walking on the sidewalk and street but their images are blurry to distinguish the individuals. Written on verso side in green ink is "NOS 6" and in black ink "CHQ - 590 Madison Ave NY NY 1948". Stamped on verso side is "PLEASE CREDIT IBM ARCHIVES".
Date
1948 ca.
Publisher
International Business Machines Corporation (IBM)
Place of Publication
New York, N.Y., U.S.
Dimensions
8 x 10 in.
Format
Photographic print
Category
Publicity photograph; Identification photograph; Aerial view
Subject
International Business Machines Corporation (IBM); International Business Machines Corporation--History; Calculators; Calculators--History