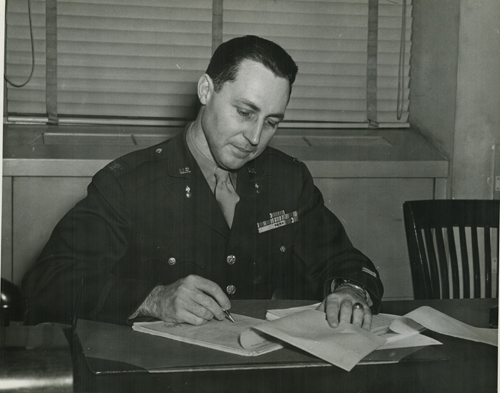 Title
Col. Paul N. Gillon
Description
This is a black and white image of Col. Paul Gillon sitting behind a desk reading some documents. He is wearing a US Army uniform and is holding a pen in his right hand. He was involved in the ENIAC project. The are closed blinds behind him covering the window. Written on verso side is "Col Paul N. Gillon ...Dept". There is also a circled "D" written in pencil. Written in pencil on white round label on original protective sleeve was "1108-2".

Date
1940-1949
Dimensions
8 x 10 in.
Format
Photographic print
Category
Publicity photograph; Identification photograph
Subject
ENIAC (Computer); Gillon, Paul N.
Collection Title
J. Pres Eckert papers
Series Title
Photographs
Credit
Purchase of the Computer History Museum