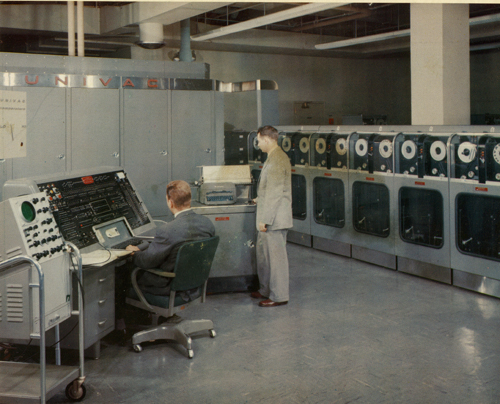 Title
Univac at Remington Rand Computing Center in New York
Description
This is a color image of two men working next to the Univac at the Remington Rand Computing Center. The man on the left is wearing a blue suit and is sitting down at the console. The man on the right is standing and is looking at the printer/teletype. Both are facing away from the camera. In the background is the main Univac system and a row of reel-to-reel tape machines. Written in pencil on small white round label on original protective folder was "1152-4".
Date
1954 ca.
Place of Publication
New York, N.Y., U.S.
Dimensions
5 1/8 x 7 in.
Format
Photographic print
Category
Publicity photograph; Identification photograph
Subject
Univac (Computer)
Collection Title
J. Pres Eckert papers
Series Title
Photographs
Credit
Purchase of the Computer History Museum