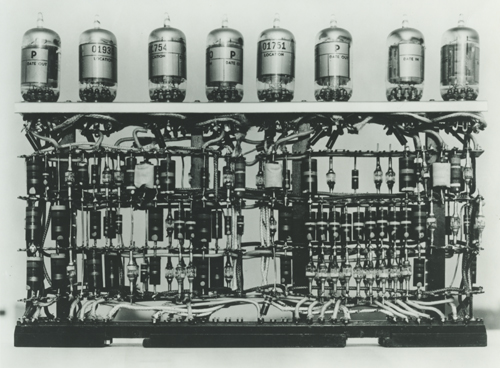 Title
IBM Solid Logic - Vacuum tubes used in IBM 701
Description
This is a black and white image of a eight vacuum tubes arranged in a row sitting on top of a device composed of wires and transistors. The background is white and light source seems to be from the direction of the camera. Written in pencil on left and right edge of verso side of image is "#1254". On the verso side of image, the top right edge written in black ink is "NOS-143" along with the stamped words "PLEASE CREDIT IBM ARCHIVES". Written in black ink on the right side of the verso image is "Vacuum tubes used in IBM "701"". On the left side of the verso image is a yellow post-it note written in blue ink is "From "Solid Logic Technology" folder".
Date
1952 ca.
Publisher
International Business Machines Corporation (IBM)
Identifying Numbers
| | |
| --- | --- |
| Other number | 1254 |
| Other number | NOS-143 |
Dimensions
8 x 10 in.
Format
Photographic print
Category
Identification photograph; Publicity photograph
Subject
Computer industry--History; IBM 701 (Computer); Computers--History; Electronic data processing--History
Credit
Courtesy of Gwen Bell