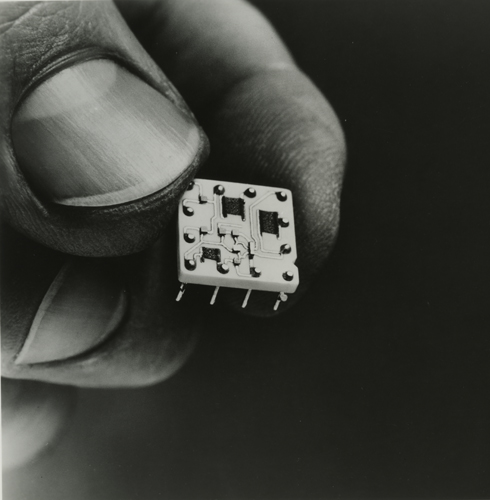 Title
IBM Solid Logic - Unencapsulated module for IBM 360
Description
This is a black and white enlarged image of an unencapsulated chip module for IBM 360. It is being held between the thumb and index finger of a person's left hand. The left hand is shown coming from the left edge of the image. The background is totally dark except for light shining directly on the module from the front. Written on the verso side of image in pencil near the top right corner is "IBM". Directly below that written also in pencil is "#1397". At the bottom right corner written in blue ink is "436".
Date
1964 ca.
Publisher
International Business Machines Corporation. East Fishkill Components Division. (IBM)
Identifying Numbers
| | |
| --- | --- |
| Other number | 1397 |
| Other number | 436 |
Dimensions
8 x 10 in.
Format
Photographic print
Copyright Holder
International Business Machines Corporation (IBM)
Category
Identification photograph; Publicity photograph
Subject
Computer industry--History; Computers--History; Electronic data processing--History
Credit
Courtesy of Gwen Bell