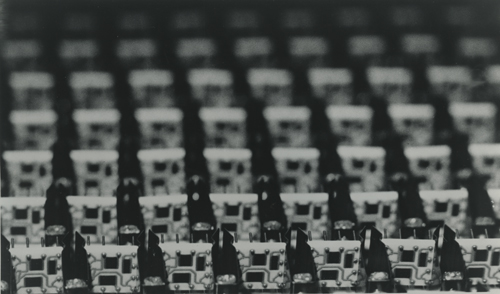 Title
IBM Solid Logic - SLT Modules for the IBM 360 at a stage in production
Date
1964 ca.
Publisher
International Business Machines Corporation. East Fishkill Components Division. (IBM)
Dimensions
8 x 10 in.
Format
Photographic print
Copyright Holder
International Business Machines Corporation (IBM)
Description
This is a black and white image of a production process of several SLT (Solid Logic Technology) modules for the IBM 360 computer. The modules shown have their resistors attached but as yet untrimmed. The modules foreground appear sharp and crisp but the modules in the second row and farther back are very blurry. Light is coming from the direction camera. The foreground is also off-white to light gray with the background dark. Written on the verso side in pencil on right edge is "#1399". "DP-639" is inverted and written in relation to the proper orientation to the image. In the verso center of image written in pencil is "SLT production".
Category
Identification photograph; Publicity photograph
Subject
Computer industry--History; Computers--History; Electronic data processing--History
Credit
Courtesy of Gwen Bell