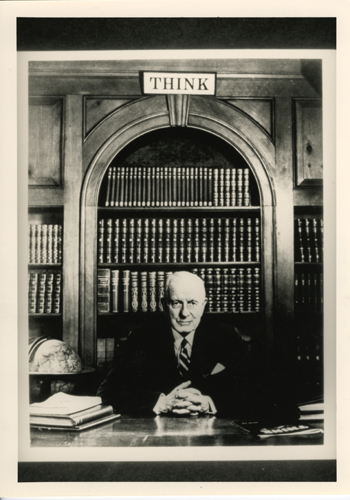 Title
Thomas Watson Sr. sitting at desk
Date
1948 ca.
Dimensions
7 x 5 in.
Format
Photographic print
Description
This is a black and white image of Tom Watson Sr. sitting at a desk with a bookcase behind him and a sign that says "THINK" hanging on the wall. He is wearing a business suit and staring directly at the camera with his hands folded. Light is coming from the direction of the camera. This photo is of another photo taken earlier which is smaller. The borders of the original photo can be seen. Written on verso side of image in blue pen is "Tom Watson, Sr." on the top edge. Also written on verso side in pencil is "1338".
Category
Identification photograph; Publicity photograph; Other: See Description
Subject
International Business Machines Corporation--History; International Business Machines Corporation (IBM); Watson, Thomas, Sr.
Credit
Courtesy of Gwen Bell