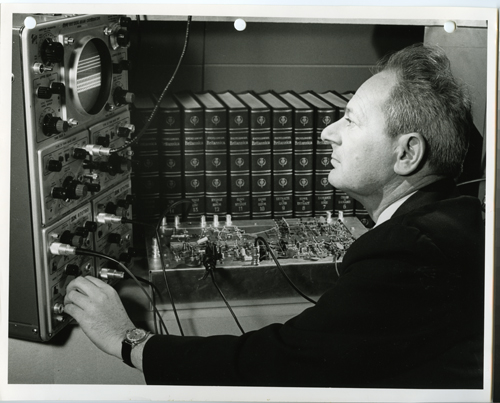 Title
Dr. Emil Hopner working on experimental television link
Date
1962 ca.
Publisher
International Business Machines Corporation (IBM)
Place of Publication
Yorktown Heights, N.Y. United States
Dimensions
8 x 10 in.
Format
Photographic print
Description
This is a black and white image of Dr. Emil Hopner working on an experimental system to transmit computer data over a television link. This is a left side profile shot of Dr. Emil Hopner looking at a Type 555 Dual Beam Oscilloscope machine. His left arm is touching one of the dials of the oscilloscope. There is a set of Encyclopedia Britannica books in the background. Light is coming from the overhead ceiling. The press release on verso side of image reads "YORKTOWN HEIGHTS, N.Y., Dec. 19 ... Computer data was flashed today at 20 million bits of information a second over a 40-mile experimental high-quality television link between Yorktown Heights and Harriman, New York, by International Business Machines Corporation engineers. This is equivalent to transmitting the more than 1,500,000 words in a typical encyclopedia volume in just three seconds. Shown with the experimental system is Dr. Emil Hopner, computer communications manager of the IBM Advanced Systems Development Division. The system uses a binary feedback technique and simple and flexible signal detection equipment and does not require modulation of computer systems for transmission.", "A.E. Jeffcoat PEekskill [sic?] 7-6000, Ext. 436","International Business Machines Corp. Advanced Systems Development Division Post Office Box 344 Yorktown Heights, New York", and "For Release: PM's Wednesday December 19, 1962". Written on verso left edge side in pencil is "1420".
Category
Identification photograph; Publicity photograph
Subject
International Business Machines Corporation--History; International Business Machines Corporation (IBM); Computer industry--United States; Computer industry--United States--History
Credit
Courtesy of Gwen Bell