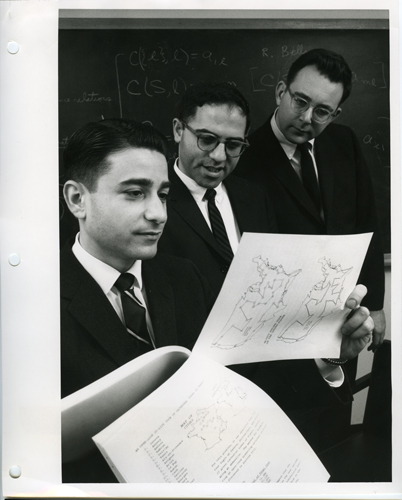 Title
IBM mathematicians Michael Held, Richard Shareshian, and Richard Karp reviewing data from a report
Description
This is a black and white image of three men in business suits reviewing data on the "Traveling Salesman" problem. Two of the men are wearing glasses. Behind them is a blackboard with equations. The man closest to the camera is turning the pages of the manual with his left hand. Light is coming from the direction of the camera. Written on the press release sheet is "WHITE PLAINS, N.Y. Jan 2....IBM mathematicans (left to right) Michael Held, Richard Shareshian, and Richard M. Karp review the manual describing a new computer program which provides business and industry with a practical scientific method for handling a wide variety of complex scheduling tasks. The program, available to users of the IBM 7090 and 7094 data processing systems, consists of a set of 4,500 instructions which tell the computer what to do with data fed into it. It grew out of the trio's efforts to find solutions for a classic mathematical problem -- the "Traveling Salesman" problem - whcih has long defied solution by man, or by the fastest computers he uses.", "FROM: International Business Machines Corp. Data Processing Division 112 East Post Road White Plains, New York","Bert Reisman 914 WHite [sic] Plains 9-1900", and "FOR RELEASE: A.M's Thursday January 2, 1964". Written on verso side of image and on press release sheet in pencil is "1423".
Date
1964 ca.
Publisher
International Business Machines Corporation (IBM)
Place of Publication
White Plains, N.Y. United States
Dimensions
8 x 10 in.
Format
Photographic print
Category
Identification photograph; Publicity photograph
Subject
International Business Machines Corporation--History; Computer industry--United States; International Business Machines Corporation (IBM); Computer industry--United States--History
Credit
Courtesy of Gwen Bell