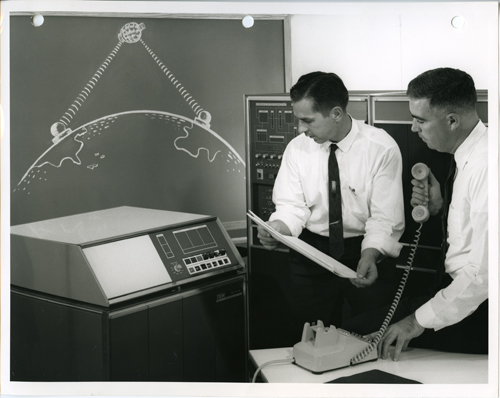 Title
Two men working on IBM 1401 computer
Description
This is a black and white image two IBM engineers, Chester Siminitz and C. Fred Woidt, in white shirts and tie looking at data on the IBM 1401 computer equipped with an IBM 1009 DTU. The man on the left is holding some computer printout sheets and the man on the right is holding a phone. Both men are looking away from the camera and towards the IBM computer. Light is coming from an overhead source. Written verso side of image on a press release sheet is "ENDICOTT, N.Y., Oct. 25 ... Computer engineers predicted exchange of business data between the U.S. and other countries at speeds of millions of words per minute following the success of a satellite transmission test performed today. Chester Siminitz and C. Fred Woidt of the IBM laboratory here sent messages directly from this IBM 1401 computer to an identical computer in Nice, France, via the American Telephone and Telephone Company's Telstar satellite. The engineers are shown monitoring the IBM 1009 data transmission unit, which converts binary coded decimal signals from the computer into a special transmission code. Voice communication was maintained between the remote computer installations over the other channels throughout the test.". Written on verso left side of image in pencil is "#1419".
Date
1963 ca.
Publisher
International Business Machines Corporation (IBM)
Place of Publication
Endicott, NY, US
Dimensions
8 x 10 in.
Format
Photographic print
Category
Identification photograph; Publicity photograph
Subject
IBM 1401 (Computer)--Programming; International Business Machines Corporation--History; Computer industry--United States; International Business Machines Corporation (IBM); Computer industry--United States--History
Credit
Courtesy of Gwen Bell