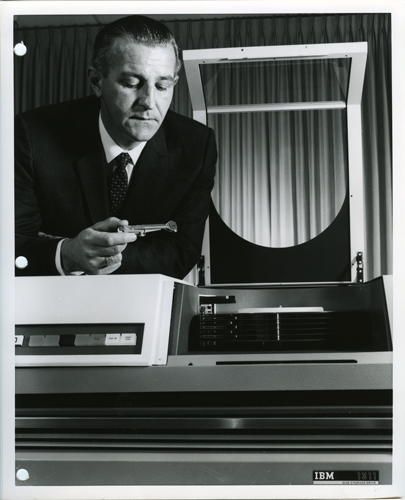 Title
Joseph Sheredy examining head assembly of IBM 1440
Description
This is a black and white image of IBM engineer Joseph Sheredy examining the head assembly used in IBM 1440. Mr. Sheredy is wearing a suit and holding a head assembly with his right hand. He is looking down at the assembly. There are curtains in the background and the light source is coming from the direction of the camera. Written on the press release sheet on back is "NEW YORK, Oct. 11....IBM engineer Joseph Sheredy examines a head assembly used in the random access memory unit of the new IBM 1440 data processing system announced today. Ten heads in each unit - called the 1311 disk storage drive - are used to seek, read and write information on six magnetic disks. The six disks comprise a removable disk pack whcih can hold nearly 3,000,000 characters of information. Up to five 1311 drives can be attached to a 1440 system." Also written on press sheet is "FOR RELEASE: Noon, Thursday October 11, 1962" and "FROM: International Business Machines Corp. Data Processing Division 112 East Post Road White Plains, New York" and "C.G. Francis White Plains 9-1900". Written on verso side of image in pencil is "#1421" near the top. "#1421" is also written in pencil on top of press release sheet.
Date
1962 ca.
Publisher
International Business Machines Corporation (IBM)
Place of Publication
White Plains, N.Y. United States
Dimensions
10 x 8 in.
Format
Photographic print
Category
Identification photograph; Publicity photograph
Subject
IBM 1440 (Computer); International Business Machines Corporation--History; Computer industry--United States; International Business Machines Corporation (IBM); Computer industry--United States--History; IBM 1311 (Disk Storage Drive)
Credit
Courtesy of Gwen Bell