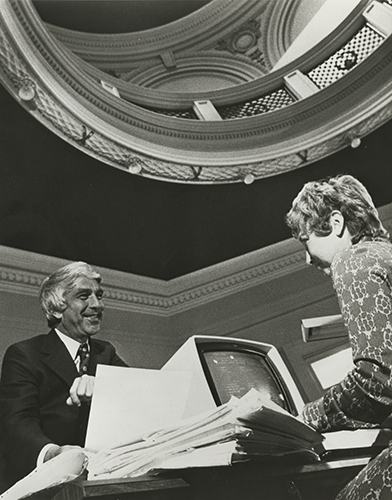 Title
IBM Terminals - People working with IBM computer terminal
Description
This is a black and white image of a man and woman smiling to each other and working next to an unidentified IBM computer terminal. The man on the left is wearing a suit and has his left arm resting on top of the IBM monitor. The woman on the left is typing into the IBM terminal. Light source is coming from overhead. Written on verso side of image in pencil is "#1290". A press release sheet on University of Cincinatti letterhead is included with this image. It states "COMPUTER MOVES INTO THE EXECUTIVE SUITE CINCINNATI, Ohio. . .A busy university president with thousands of people, places, facts and figures to remember has turned to the elephant-like memory of a computer for help. Dr. Warren Bennis (above), president of the 35,000-student Univeristy of Cincinnati, has added an IBM computer terminals to his offices to help him recall such things as a potential honorary degree recepient in Rome, a research foundation in Frankfort, or a philanthropist in Pittsburgh. The TV-like terminal, which carries an annual rental cost of about half a clerk's salary, is connected to a large IBM computer shared by administrators and researchers at both U.C. and nearby Miami University (of Ohio). One part-time assitant now handles file maintenance duties that formerly required the part-time efforts of four people, Dr. Bennis points out. 'I may get a cocktail napkin from Dr. Bennis with notes on an ambassador who has agreed to chair a special study committee,' says terminal operator June Williams. (above) 'It's a simple matter to file this into the computer, and despite the fact that we have more than 6,000 records stored, the material is cross-indexed so complete information can be retreived in minutes. With notebook and card files, we used to get incomplete information in days.'". The University of Cincinnati letterhead also states "Contact: Mary Jo Mangan (513) 475-4547".
Publisher
International Business Machines Corporation (IBM)
Place of Publication
Cincinnati, OH, US
Dimensions
10 x 8 in.
Format
Photographic print
Category
Identification photograph; Publicity photograph
Subject
Williams, June; Computer industry--History; Electronic data processing--History; Computers--History; International Business Machines Corporation (IBM); Bennis, Warren
Credit
Courtesy of Gwen Bell