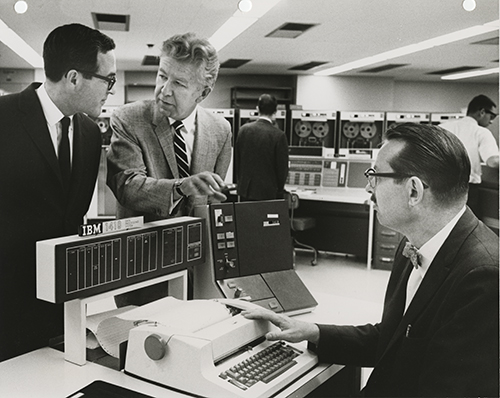 Title
IBM Terminals - Dr. Wilfrid Dixon, Dr. Sherman Mellinkoff and Dr. Foster Sherwood of UCLA next to an IBM 1410 data processing systems
Date
1963 ca.
Photographer
Wiener, Leigh
Publisher
International Business Machines Corporation (IBM); California, University of (Los Angeles)
Place of Publication
Los Angeles, CA, US
Identifying Numbers
| | |
| --- | --- |
| Other number | 1424 |
| Other number | 1844-39-36 |
Dimensions
8 x 10 in.
Format
Photographic print
Description
Thsi is a black and white image of three men, Dr. Wilfrid Dixon, Dr. Sherman Mellinkoff and Dr. Foster Sherwood, next to the IBM 7094 and IBM 1410 computers. All men are wearing suits with white shirts and ties. Dr. Mellinkoff and Dr. Sherwood are standing on the left and Dr. Dixon is sitting down on the right. There are also two other men in the background working. Dr. Dixon has his right hand on the keyboard console for the IBM 1410. Light is coming from the overhead ceiling. The press release states "FOR RELEASE: Sunday, July 21, 1963 FROM: Al Hicks UCLA Public Information Office BR 2-8911, Ext. 2342 More than 100 medical research projects at UCLA are currently receiving computer support at the University's new Health Sciences Computing Facility--the nation's largest data processing center for medical research. Dr. Wilfrid J. Dixon, right, is director of the new facility, which consists of powerful IBM 7094 and 1410 data processing systems. Here he discusses current projects with Dr. Sherman M. Mellinkoff, left, dean of the UCLA School of Medicine, and Dr. Foster Sherwood, center, UCLA vice-chancellor. The new $3,300,000 computing center was made possible by a grant from the National Institutes of Health." Written on verso side of image in pencil on left edge is "#1424". Stamped on verso side in black letters is "Photograph by Leigh Wiener" and "1844-39-36."
Category
Identification photograph; Publicity photograph
Subject
IBM 7094 (Computer)--Programming; Dixon, Wilfrid; Computer industry--History; Sherwood, Foster; Electronic data processing--History; Mellinkoff, Sherman; Computers--History; International Business Machines Corporation (IBM); IBM 1410 (Computer)
Credit
Courtesy of Gwen Bell