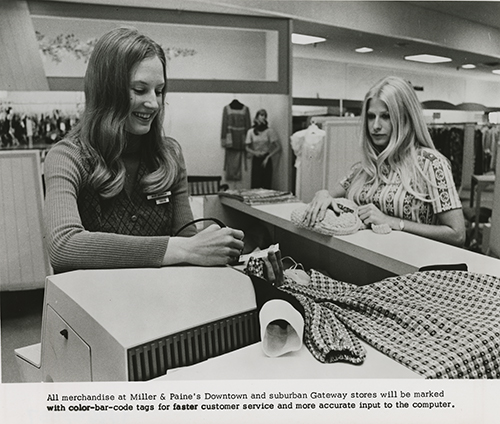 Title
IBM Terminals - Two women at a checkout counter in a department store
Description
This is a black and white image of two women standing at a counter in a clothing store. One woman on the left side of the image is smiling and scanning a barcode tag on a dress into a computer register. The woman on the right is watching her. The caption at the bottom of the image states "All merchandise at Miller & Paine's Downtown and suburban Gateway stores will be marked with color-bar-code tags for faster customer service and more accurate input to the computer.". Written in verso side of image in pencil is "#1287" and "163".
Publisher
International Business Machines Corporation (IBM)
Identifying Numbers
| | |
| --- | --- |
| Other number | 1287 |
| Other number | 163 |
Dimensions
8 x 10 in.
Format
Photographic print
Category
Identification photograph; Publicity photograph
Subject
International Business Machines Corporation--History; Computer industry--History; Electronic data processing--History; Computers--History; International Business Machines Corporation (IBM)
Credit
Courtesy of Gwen Bell