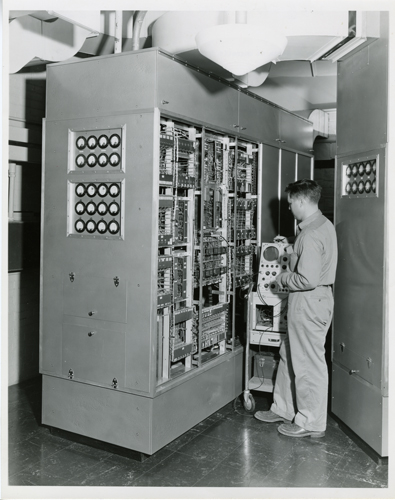 Title
Joseph Wenta working next to a magnetic drum unit of an ILLIAC I
Description
This is a black and white front view image of a man wearing work clothes standing in front of a magnetic drum unit of an ILLIAC I. He is facing away from the camera and looking at one of the panels inside. His right hand is resting on a test machine. Several panels of the ILLIAC I have been removed showing the interior components and wires. Light is coming from the overhead lights. Typed on verso side of image is "Joseph M. Wenta at magnetic drum unit" and "Digital Computer Lab. 11/13/56". Written on verso side near top in black pen is "195(4-56) E ILLIAC I, 1956". Also typed at the top but crossed off is "FILE COPY - DO NOT REMOVE". Written in pencil on verso side is "#1437" and "C-345-A839- #7".
Date
1956 ca.
Identifying Numbers
| | |
| --- | --- |
| Other number | 1437 |
| Other number | 7 |
| Other number | C-345-A-839 |
Dimensions
10 x 8 in.
Format
Photographic print
Category
Identification photograph; Publicity photograph
Subject
Computers--History; Illiac I (Computer); Computer industry--History
Credit
Courtesy of Gwen Bell