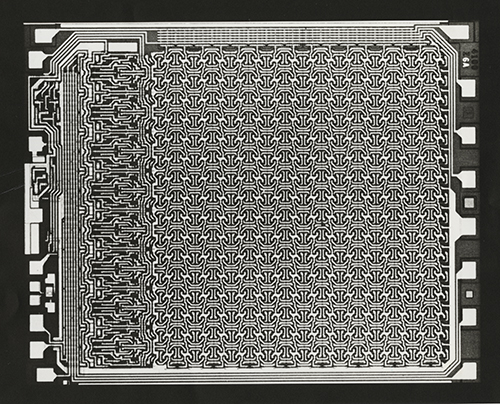 Title
Integrated circuit for the ILLIAC IV
Description
This is a black and white image of an integrated circuit for the ILLIAC IV computer against a black background. Written on verso side of image in pencil is "#1500" and "4100". Written on the green post it note is "13". Parallel Processing appeared in the huge ILLIAC IV, the first computer to abandon the classic one-step-at-a-time scheme of John von Neumann. ILLIAC IV had sixty-four processors, each with its own memory, all operating simultaneously on separate parts of one problem. Designed at the University of Illinois and built by Burroughs, the computer took six years to complete at a cost of $40 million. It was the fastest machine then in use, but ahead of its time. Plagued by technical ills and very difficult to program, ILLIAC IV was one of a kind.
Publisher
Illinois, University of (Urbana-Champaign)
Identifying Numbers
| | |
| --- | --- |
| Other number | 13 |
| Other number | 1500 |
| Other number | 4100 |
Dimensions
7 1/4 x 9 1/2 in.
Format
Photographic print
Category
Identification photograph; Publicity photograph; Photomicrograph; Macrophotograph
Subject
Illiac IV (Computer); Integrated circuits; Burroughs Corporation; Computers--History; Computer industry--History
Credit
Courtesy of Gwen Bell