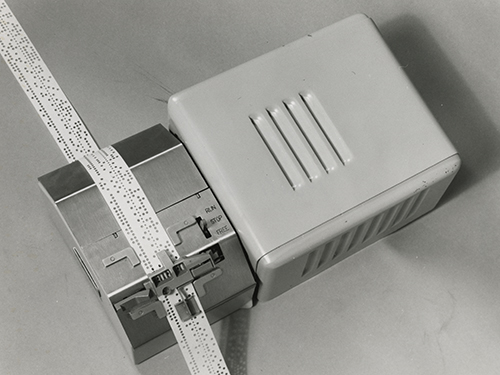 Title
Paper tape machine reader for the ILLIAC II computer
Date
1974 ca.
Publisher
Illinois, University of (Urbana-Champaign)
Identifying Numbers
| | |
| --- | --- |
| Other number | 1445 |
| Other number | 68-1242-1 |
| Other number | L-2-7 |
Dimensions
8 x 10 1 /8 in.
Format
Photographic print
Description
This is a black and white image of a paper tape reader against a gray background from the 1950s and photographed ca. 1974. There is a long strip of paper tape with holes being feed through the machine. The three settings visible on the reader are "Run", "Stop", and "Free". Light is coming from the left side of the image. Written on verso side of image in pencil is "L-2-7" and #1445". Written in black pen on verso side is "68-1242-1". The post it note has written on it "ILIAC [sic] II (74) from 50s"
Category
Identification photograph; Publicity photograph
Subject
Illiac IV (Computer); Burroughs Corporation; Computers--History; Computer industry--History
Credit
Courtesy of Gwen Bell