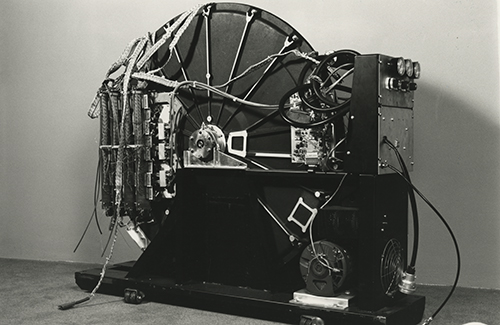 Title
ILLIAC IV hard disk drive
Description
This is a black and white image of a 10 megabyte drive for the ILLIAC IV computer. It has been disconnected from the main computer and is sitting on the floor against a white wall. Light is coming from the left side of the image and from overhead. Written on the 1/2 x 1 3/4 in. label on the front side of the image is "cut233 30%". Typed on the white label on verso side of image is "(c) The Computer History Museum History Center Contact us for reproduction rights media@tcm.org +1 415 604 2575". Written in black pen on verso side is "P4335" and "10 MB hard drive from ILLIAC IV dimensions: 4' H x 6' W x 2.5' D". Also written on verso side in pencil is "Burroughs Disk ILLIAC IV" and "P83.27". Written in blue pencil on verso side is "ILLIAC IV". Several other notes were written in blue pencil but are crossed off.
Publisher
Illinois, University of (Urbana-Champaign)
Identifying Numbers
| | |
| --- | --- |
| Other number | P4335 |
| Other number | P83.27 |
Dimensions
8 x 10 in.
Format
Photographic print
Copyright Holder
Illinois, University of (Urbana-Champaign)
Category
Identification photograph; Publicity photograph
Subject
Illiac IV (Computer); Burroughs Corporation; Computers--History; Computer industry--History
Credit
Courtesy of Gwen Bell