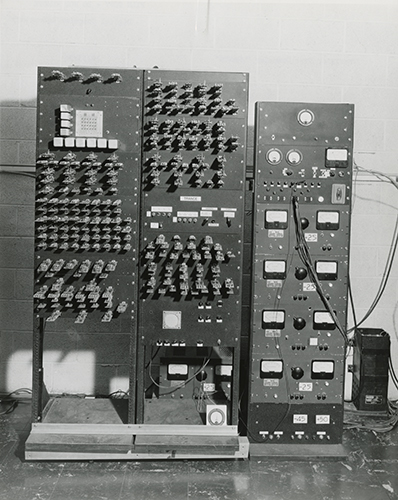 Title
ILLIAC - Transistor test computer "Trance"
Description
This is a black and white image of a front view of the transistor test computer called "Trance" which comprises three columns of floor standing equipment. The first two columns on the left have circuit boards jutting out and the machine on the right has dials and meter dials. Light is coming from the direction of the camera. Typed on verso side at the top is "FILE COPY - DO NOT REMOVE Digital Computer Laboratory 11/13/56" and "Transistor Test Computer 'Trance'". Written in pencil on verso side near the right edge is "C-345-A-839-#9". Written on the yellow ruled lined paper which is included with the image is "Early Saturated Circuits" and "Small computer built by Poppelbaum 'Trance'".
Date
1956 ca.
Identifying Numbers
| | |
| --- | --- |
| Other number | 9 |
| Other number | C-345-A-839 |
Dimensions
10 x 8 in.
Format
Photographic print
Category
Identification photograph; Publicity photograph
Subject
Computer industry--History; Computers--History; Electronic data processing--History
Credit
Courtesy of Gwen Bell