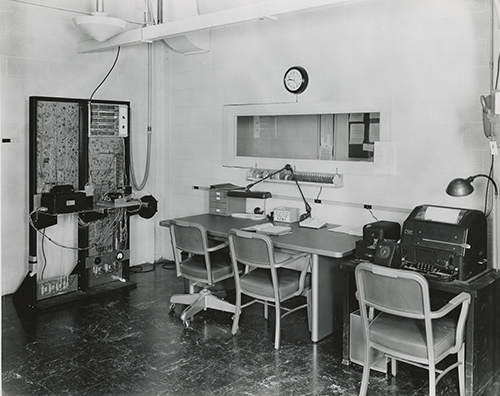 Title
Input-output area with paper tape reader equipment for ILLIAC I computer
Description
This is a black and white image of a tape reader machine for the ILLIAC I computer as well as other office equipment and furniture. The tape reader machine is on the left side of the image and has no panels so The light is coming from the direction of the camera as well as from the overhead lights. Written on verso side of image in pencil at the left edge is "#1429". Written at the top edge on verso side in black pen is "1953 #3b" and in pencil "1953 #3b".
Date
1953 ca.
Publisher
Illinois, University of (Urbana-Champaign)
Identifying Numbers
| | |
| --- | --- |
| Other number | 1429 |
| Other number | 3b |
Dimensions
8 x 10 in.
Format
Photographic print
Category
Identification photograph; Publicity photograph
Subject
Computer industry--History; Computers--History; Electronic data processing--History; Illiac I (Computer)
Credit
Courtesy of Gwen Bell