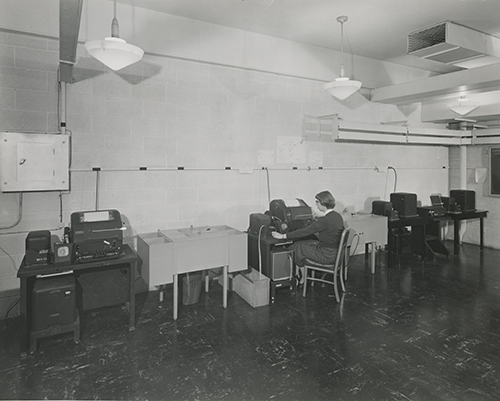 Title
Carolyn Brown sitting at a tape puncher for the ILLIAC I
Description
This is a black and white image of a tape preparation room for the ILLIAC I. There are four desks with tape punching machines and consoles. The woman shown in the image is Carolyn Brown and is seated at a tape punching machine with her left hand on the desk. Light is coming from the overhead lights. Written on verso side of image at the top in pencil is "Illiac Paper Tape Preparation room" and "#3C Oct 14 '53". Stamped on the top left corner is "OCT 14 1953". "#3 C" is written on black pen also at the top left corner. Written on the left side in pencil is "#1430" and in blue pen at the bottom is "3482".
Date
1953 ca.
Publisher
Illinois, University of (Urbana-Champaign)
Identifying Numbers
| | |
| --- | --- |
| Other number | 1430 |
| Other number | 3482 |
| Other number | 3C |
Dimensions
7 3/4 x 10 in.
Format
Photographic print
Category
Identification photograph; Publicity photograph
Subject
Computer industry--History; Computers--History; Electronic data processing--History; Illiac I (Computer)
Credit
Courtesy of Gwen Bell