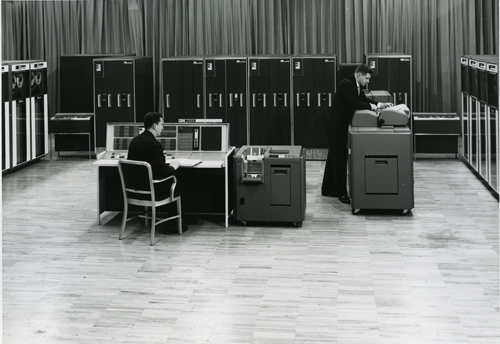 Title
Two men working with an IBM 7090 data processing system
Description
This is a black and white image of two men working near a IBM 7090 data processing system with several other IBM systems in the background. Both men are wearing suits and the man on the left is sitting down at the IBM 7090 console with his left hand on an open binder. The man on the right is looking at a computer printout machine. Light is coming from overhead. Written on verso side of image in pencil is "9B 7788".
Identifying Numbers
| | |
| --- | --- |
| Other number | 7788 |
| Other number | 9B |
Dimensions
8 x 10 in.
Format
Photographic print
Category
Identification photograph; Publicity photograph
Subject
IBM 7090 (Computer); International Business Machines Corporation (IBM); International Business Machines Corporation--History; Computers--History
Credit
Courtesy of Gwen Bell