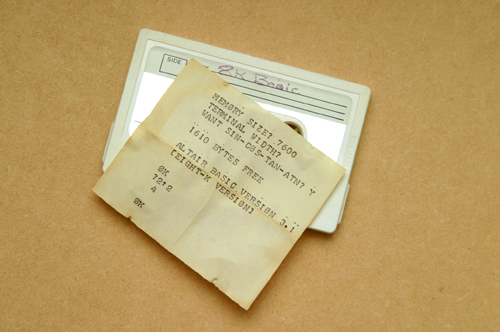 Title
8K BASIC program on cassette for the Altair computer
Description
This is a color image of a cassette labeled "8K BASIC" for the Altair computer against a brown background. Resting on top the cassette is a typed piece of paper that reads "Memory size? 7600
terminal width?
Want sin-cos-tan-atn?Y
1610 bytes free
Altair BASIC version 3.1
[Eight-K version]
OK
?2[arrow pointing upwards] 2
4
OK"


Date
2004-08-06
Dimensions
982 K
Format
Electronic image
Copyright Holder
Wheeler, Louis
Category
Digital Image; Digital photograph; Identification photograph; Publicity photograph
Credit
Gift of Louis Wheeler