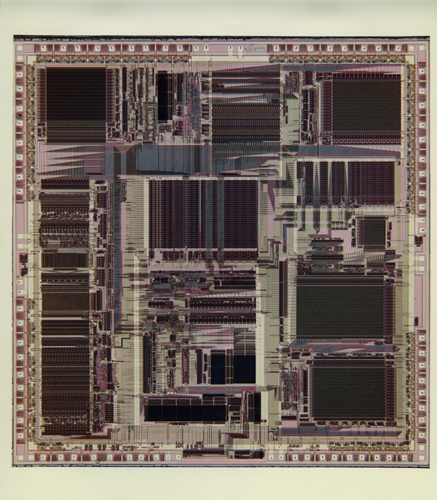 Title
HP Stirling CMOS PA-RISC die shot
Date
1986 ca.
Publisher
Hewlett-Packard Company (HP)
Dimensions
11 x 8 1/2 in.
Format
Photographic print
Description
This is a color image of a microprocessor. The tones are tan, pink and light brown. Written on verso side of image in black pen is "Return to Ruby Lee, H.P." and "HP Stirling - 1st. CMOS PA-RISC Microprocessor, 1986". Stamped on verso side near center is "NEG. No. 8844 Part No.
Melgar Photography Inc. 2971 Corvin Dr. Santa Clara, CA 95051 (408)733-4500".
Category
Photomicrograph; Publicity photograph; Identification photograph
Subject
Hewlett-Packard Co. (HP); Microprocessors
Credit
Courtesy of Gwen Bell