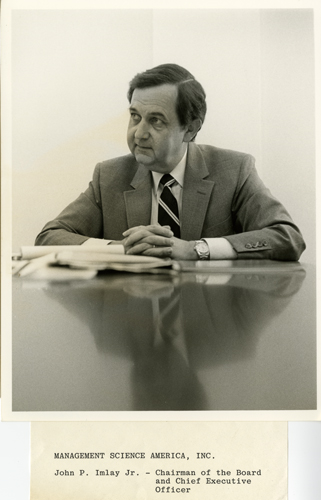 Dimensions
8 1/2 x 6 1/2 in.
Format
Photographic print
Description
This is a black and white of John Imlay sitting at a table with his hands folded against a white background. He is wearing a coat and striped tie and staring to the left side of the image. Written on the affixed white piece of paper is "MANAGEMENT SCIENCE OF AMERICA, INC. John P. Imlay, Jr. - Chairman of the Board and Chief Executive Officer".
Category
Identification photograph; Publicity photograph
Subject
Imlay, John P.; Management Science America, Inc.
Collection Title
John P. Imlay papers
Series Title
A/V material
Credit
Gift of John Imlay