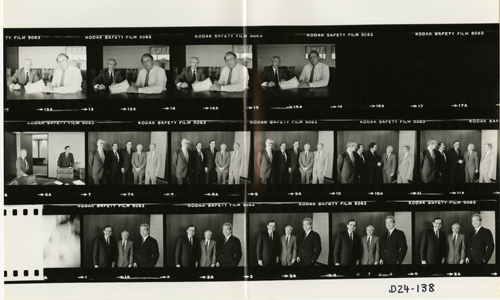 Title
Group portrait with John P. Imlay, Jr.
Description
This is a black and white contact sheet of three strips of Kodak safety film showing images of John Imlay and several unidentified men. The top strip on recto side shows two men holding a Management Science America certificate and looking at the camera. Both men are wearing shirts and ties. The man on the right of the image is wearing glasses but no coat. The man on the left is wearing a coat. The second strip shows John Imlay, in the center, standing with four other men and shaking hands with the man on his left. All the men are wearing coats and ties. The bottom strip shows three men standing and smiling in front of the camera. All are wearing coat and ties. John Imlay is on the left side of the image and smiling. The man on the right of the image is wearing glasses with his left hand in his pocket. Written on the bottom right corner on recto side of image is "D24-138".
Dimensions
11 x 14 in.
Format
Photographic print
Category
Identification photograph; Publicity photograph; Contact print; Group portrait
Subject
Imlay, John P.; Management Science America, Inc.
Collection Title
John P. Imlay papers
Series Title
A/V material
Credit
Gift of John Imlay