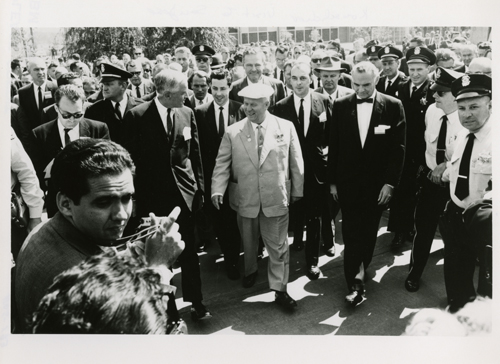 Title
Nikita Khrushchev visiting IBM facility in San Jose
Description
This is a black and white image of Soviet Premiere Nikita Khrushchev touring an IBM facility in San Jose which looks like the Cottle Road area. He is smiling and wearing a white cap with suit and medals on his chest. He is also surrounded by other men dressed in dark suits, policemen, and other guards. This is a daytime shoot with the light coming from behind the people. Stamped on verso side is "PLEASE CREDIT IBM ARCHIVES". Written on verso side in black ink is "Kruschschev [sic] visit to San Jose 1959" and "NOS-193"
Date
1959 ca.
Publisher
International Business Machines Corporation (IBM)
Place of Publication
San Jose, Calif., U.S.
Dimensions
8 x 10 in.
Format
Photographic print
Category
Identification photograph; Publicity photograph
Subject
International Business Machines Corporation (IBM); Khrushchev, Nikita