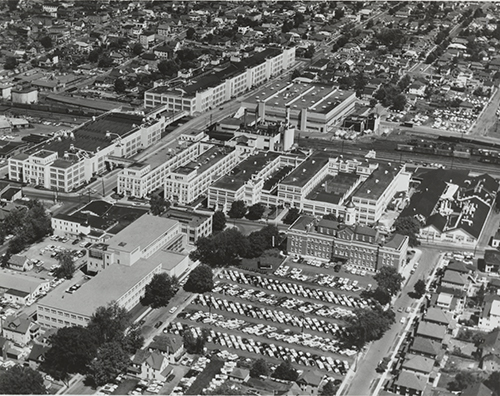 Title
Overview of an IBM headquarters in Endicott, New York
Date
1962 ca.
Publisher
International Business Machines Corporation (IBM)
Place of Publication
Endicott, NY, US
Dimensions
8 x 10 in.
Format
Photographic print
Description
This is a black and white image of the IBM headquarters in Endicott, New York. This is an aerial shot overlooking the top of several buildings with surrounding streets and railroad tracks. The image was taken during daylight hours with the light coming from the right side. Written on verso side of image near the center in blue ink is "Endicott (c) 1962". Written on verso side of image on old label in black ink is "Source: IBM Archive Armonk, NY". Also written on verso side of image in black ink left edge is "P4114".
Category
Identification photograph; Publicity photograph; Aerial view; Aerial photograph
Subject
Computer industry--History; International Business Machines Corporation--History; International Business Machines Corporation (IBM); Computers--History; Electronic data processing--History
Credit
Courtesy of Gwen Bell