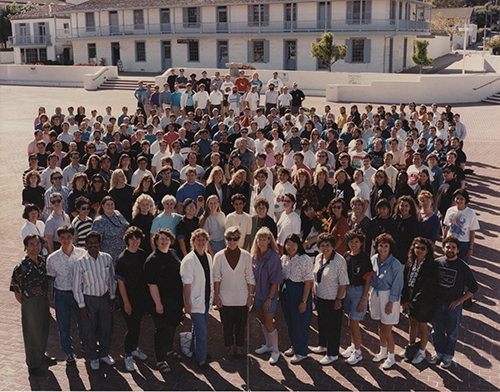 Title
Group portrait of Apple employees
Description
This is a color image of a large group of men and women from Apple Computer standing in front of a building in Monterey, California. They are all smiling and looking towards the camera. This is a daytime photo with the sunlight appearing behind the people from the left side of the image. Typed on verso side of image is "CARMEL 9/92 050 N 00 56" and "000 000-010-010 0 073"
Publisher
Apple Computer, Inc.
Place of Publication
Monterey, Calif., U.S.
Dimensions
11 x 14 in.
Format
Photographic print
Category
Identification photograph; Publicity photograph; Group portrait
Subject
Apple Computer, Inc.; Computer industry--History; Computers--History; Electronic data processing--History; Apple Computer, Inc.--History
Credit
Courtesy of Gwen Bell