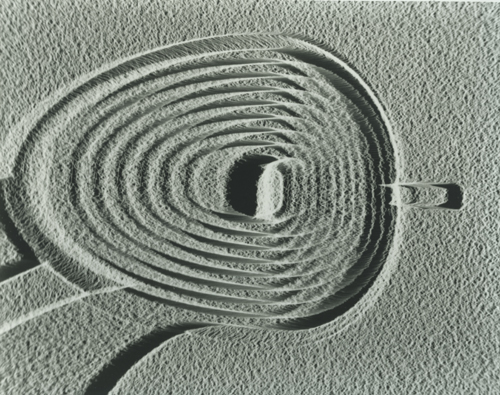 Title
IBM Mass Storage - Thin-film Head on IBM 3380 Disk Drive
Description
This is a microscopic image of a thin film head on an IBM 3380 disk file. Typed attachment on verso side of image is "FOR RELEASE: IMMEDIATE IBM Corporation Arkmonk, NY 10504 THIN-FILM PIONEER: IBM's 3380 disk file, using thin film heads such as that shown here magnified 160 times, can record and read information at three million characters per second and store 2.5 billion characters--the highest levels yet reported. These new heads are manufactured using a photolithographic process similar to that used to fabricate silicon semiconductor circuits. 060782C". The light source is coming from the microscrope.
Publisher
International Business Machines Corporation (IBM)
Place of Publication
Arkmonk, NY, US
Identifying Numbers
| | | |
| --- | --- | --- |
| Other number | 060782C | Verso attachment |
| Other number | P4044 | Verso |
Dimensions
8 x 10 in.
Format
Photographic print
Category
Identification photograph; Publicity photograph; Photomicrograph
Subject
IBM 3380 (Storage); Computers--History; International Business Machines Corporation (IBM); Electronic data processing--History; Computer industry--History