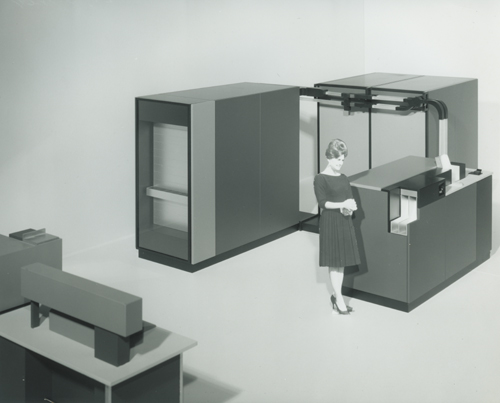 Title
IBM Mass Storage - IBM Cypress mock up showroom
Description
This is a black and white image of an IBM Cyprus computer mockup showroom with a picture of a woman standing in the foreground. The woman has been cut-out from another image source and superimposed on this image. However, this is a reprint of the original so the physical cut-out of the woman isn't present. The background is white with light coming from the left side of the image. Written on verso top side in pencil is "L2" and "2-28-64". Written on verso bottom of image in pencil is "industrial design mockup of Cyrprus system for IBM".
Publisher
International Business Machines Corporation (IBM)
Identifying Numbers
| | |
| --- | --- |
| Other number | 2-28-64 |
| Other number | L2 |
Dimensions
8 x 10 in.
Format
Photographic print
Category
Identification photograph; Publicity photograph; Montage
Subject
International Business Machines Corporation (IBM); Computer industry--History; Computers--History; IBM Cyprus (Computer); Electronic data processing--History
Credit
Courtesy of Jack Harker