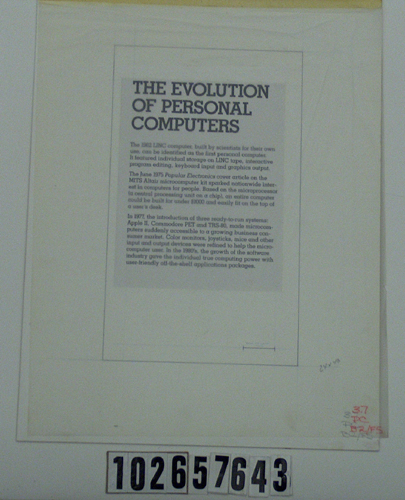 Publisher
Computer History Museum
Dimensions
15 x 11 in
Format
Photographic print
Description
A black and white poster describing the evolution of the computer.
Starts with the LINC in 1962 and ends with the TRS-80 in 1977.

The Evolution of Personal Computers
The 1962 LINC computer built by scientists for their own use,can be identified as the first personal computer.

The June 1977 Popular Electronics cover article on the MITS Altair microcomputer kit sparked nation wide interest in computers for people.

In 1977, the introduction of three ready to run systems: Apple II, Commodore Pet and TRS 80, suddenly made micorcomputers accessible
to a growing business comsumerr market.
Category
Poster