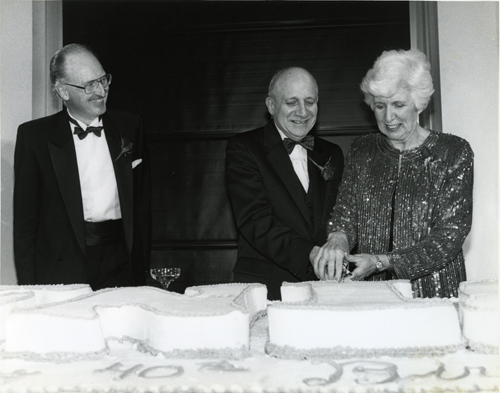 Title
J. Presper Eckert and Kay Mauchly-Antonelli celebrating 40 years of ENIAC
Description
This is a black and white image of John Presper Eckert (center) and Kay Mauchly-Antonelli (right) cutting a cake and celebrating 40 years on the birth of the ENIAC. Mr. Eckert is in the center wearing a tuxedo and bow tie and cutting the cake with his right hand. There is an unidentified man on the left of the image wearing glasses and a tuxedo and looking at John and Kay. Written on the white label affixed to verso side is "CELEBRATING 40 YEARS Forty years to the day after ENIAC, the world's first all-electronic digital computer, was switched on, its birthday was celebrated at the Computer Museum in Boston. On February 13, co-inventor J. Presper Eckert (second from right) cut a special ENIAC cake with Kay Mauchly-Antonelli, widow of ENIAC's co-inventor Dr. John W. Mauchly. Dr. Eckert currently serves as Vice President and Technical Advisor for Sperry Corporation.". Written in pencil on small white round label on original protective sleeve is "1395-1".
Date
1986-02-13
Place of Publication
Boston, MA, US
Dimensions
8 x 10 in.
Format
Photographic print
Category
Publicity photograph; Identification photograph
Subject
ENIAC (Computer); Mauchly-Antonelli, Kay; Eckert, J. Presper, Jr.
Collection Title
J. Pres Eckert papers
Series Title
Photographs
Credit
Purchase of the Computer History Museum