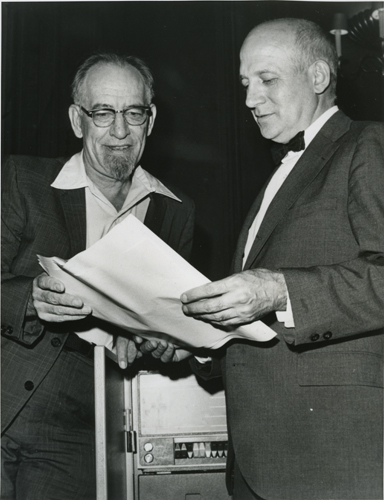 Title
Dr. John W. Mauchly and Dr. J. Presper Eckert
Description
This is a black and white image of Dr. Mauchly, left, wearing glasses and beard. Dr. Eckert is on the right wearing a suit and bow tie. Both men are looking and holding to a large piece of paper. Written on the press release affixed to verso side of image is "PIONEERS -- Dr. John W. Mauchly, left, and Dr. J. Presper Eckert, who produced ENIAC, the world's first electronic digital computer, 25 years ago in 1946, meet again during recent anniversary events in Chicago. Dr. Mauchly was a Professor of Electrical Engineering at the University of Pennsylvania and Dr. Eckert was a graduate student when they produced the 30-ton ENIAC for the Army. They subsequently founded the Eckert-Mauchly Computer Corp. which was acquired by Remington Rand and later became the Univac Division of Sperry Rand. Dr. Eckert is now a Vice President and Technical Advisor to the President of Univac. Dr. Mauchly is President of Dynatrend, a computerized stock research firm in Springhouse, Pa.". The press release is from "Peter R. Sigmund Sperry Rand Corporation Univac Division P.O. Box 500 Blue Bell, Pa. 19422 Tele. 215/825-2560 Ext. 215/216". Press release is dated "8/15/71".
Written in pencil on small white round label on original protective sleeve is "1365-1"
Date
1971 ca.
Publisher
Sperry Rand Corporation. Univac Data Processing Division
Dimensions
10 x 8 in.
Format
Photographic print
Category
Publicity photograph; Identification photograph
Subject
Mauchly, John William; Dynatrend; Univac computer--History; Eckert, J. Presper, Jr.
Collection Title
J. Pres Eckert papers
Series Title
Photographs
Credit
Purchase of the Computer History Museum