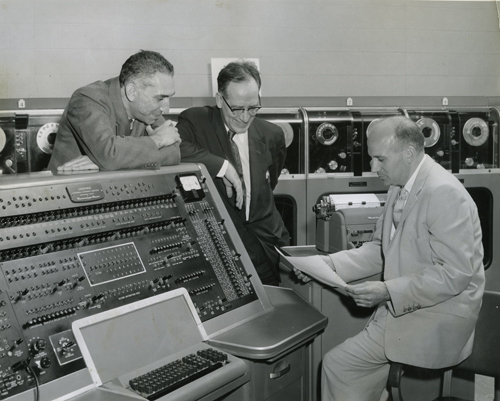 Title
J. Presper Eckert in front of Univac console
Description
This is a black and white image of J. Presper Eckert, sitting at right, with two unidentified men by a Univac console. Mr. Eckert is holding a computer printout with his two hands and reading it. The two men on the left of the image are looking down at the piece of paper. All the men are dressed in suits and ties. On the left of the image is a UNIVAC console containing typewriter style keyboard, dials, and lights. In the background is a row of reel to reel UNIVAC tape machines. Stamped on verso side of image is "PHOTOGRAPH BY TOMMY WEBER 202 EAST 39TH STREET NEW YORK 16, N.Y. MURRY HILL 5-5151 NUMBER". Written in pencil on verso side is "5162-18". Written in pencil on small white round label on original protective sleeve is "1255-2".
Date
1960 ca.
Photographer
Weber, Tommy
Identifying Numbers
| | |
| --- | --- |
| Other number | 5162-18 |
| Other number | OOC 1255-2 |
Dimensions
8 x 10 in.
Format
Photographic print
Category
Publicity photograph; Identification photograph
Subject
Univac (Computer); Remington Rand, Inc.
Collection Title
J. Pres Eckert papers
Series Title
Photographs
Credit
Purchase of the Computer History Museum