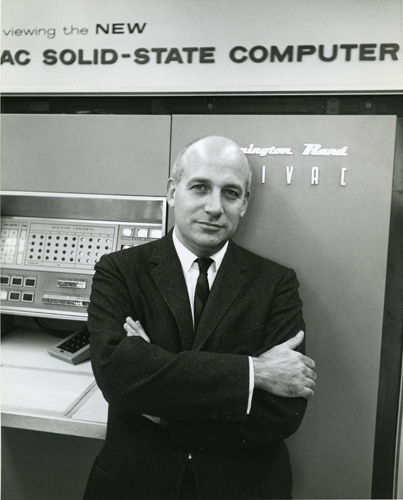 Title
J. Presper Eckert standing in front of a Univac
Description
This is a black and white image of J. Presper Eckert standing in front of an Univac computer. He is wearing a suit and tie and has his arms folded. The plaque on top of the computer reads "...viewing the NEW....AC SOLID-STATE COMPUTER". Written on the note that was attached to photo is "J. Presper Eckert, Vice President of Remington Rand UNIVAC, is the 43-year-old co-inventor of electronic computers. He told a meeting of computer men in Palo Alto Tuesday that, properly used, computers can help make 'executives 100 feet tall.' He cautioned, however, that management which do not take full advantage of electronic computers in the future will be as out of step as the clock which goes "tock-tick.". Stamped on verso side is "#26154", "#26070", and "PHOTOGRAPHY BY GUY GILLETTE 133 MOUNTAINDALE ROAD YONKERS, NEW YORK SPencer [sic] 9-4684 PRINT NO.". Written in pencil on verso side "C1 8". "C1" is underlined in pencil.

Written in pencil on small white round label on original protective sleeve is "1255-9"
Date
1962 ca.
Photographer
Gillette, Guy
Identifying Numbers
| | |
| --- | --- |
| Other number | 11 |
| Other number | 26070 |
| Other number | 26154 |
| Other number | C2 |
| Other number | OOC 1255-9 |
Dimensions
10 x 8 in.
Format
Photographic print
Category
Publicity photograph; Identification photograph
Subject
Eckert, J. Presper, Jr.; Univac (Computer)
Collection Title
J. Pres Eckert papers
Series Title
Photographs
Credit
Purchase of the Computer History Museum