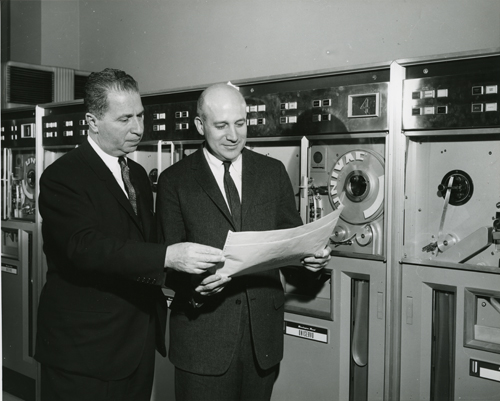 Title
J. Presper Eckert and Mortimer Adler in front of Uniservos
Date
1962 ca.
Publisher
Wagner-International Photos
Identifying Numbers
| | |
| --- | --- |
| Other number | 130 |
| Other number | OOC 1255-10 |
Dimensions
8 x 10 in.
Format
Photographic print
Description
This is a black and white image of Mortimer Adler, left, and J. Presper Eckert, right. Both of them are wearing suits and ties and reading a computer printout. Behind them is a row of Uniservos that are reel to reel tape machines. This photo was taken during an event promoting a computer exhibit at the Seattle World's Fair. According to OOC (Origins of Cyberspace) p. 594, there is a newspaper clipping from the Nalconae Observer dated March 25, 1962 that accompanied this photo. Written on verso side in pencil is "Left to Right: Dr. Mortimer J. Adler, Director of the Institute of Philosophical Research, and editor of the 'Great Books of the Western World'. J.Presper Eckert, vice president of Remington Rand, and co-inventor of the first electronic computer." Stamped on verso side is "Wagner-International Photos 10 west 56th Street, New York 19, N.Y. Clrcle 6-9470" . Written in pencil on small white round label on original protective sleeve is "1255-10".
Category
Publicity photograph; Identification photograph
Subject
Eckert, J. Presper, Jr.; Univac (Computer); Adler, Mortimer J.
Collection Title
J. Pres Eckert papers
Series Title
Photographs
Credit
Purchase of the Computer History Museum