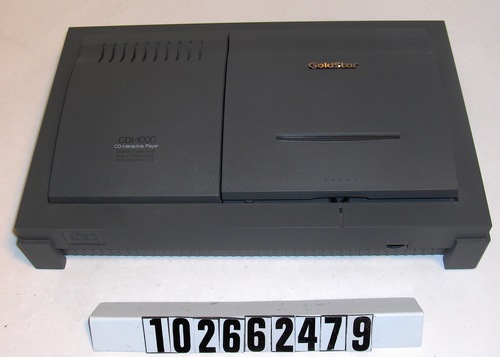 Title
Goldstar GDI 1000 CD interactive player
Description
Object has a business card attached by tape to bottom that reads," LG Electronics Bruce A. Rachman National Sales Manager CD-i Division" Under name and title has company information for LG Electronics U.S.A. and Goldstar. On front cover of object printed in white and black, "GDI-1000 CD-Interactive Player Digital Video and Audio Processing CD audio and photo CD".
Date
1994
Manufacturer
LG Electronics, Inc. / Sprint
Place Manufactured
Belgium
Identifying Numbers
Model number
GDI-1000
Other number
001379
On bottom.
Other number
AH00943499087
Production number printed on bottom label.
Other number
CDI450/80
On paper label on bottom.
Dimensions
overall: 2 1/2 in x 10 1/2 in x 7 1/2 in
Category
Fixed-application digital computer/media player
Credit
Gift of the DVD Association (DVDA)