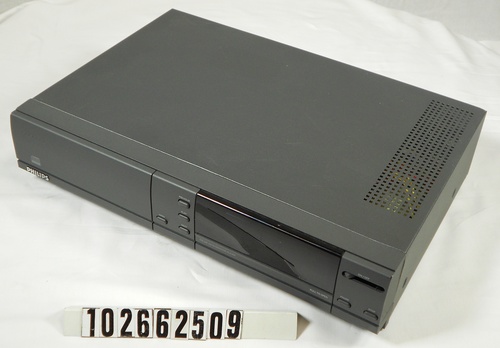 Title
CD-I220 CD-INTERACTIVE PLAYER
Description
Rectangular metal box, with vent holes on top right.
On the front there is a flip down door with a cartridge in slot behind door. To the right of that, there are 4 buttons. To the right of that is a plastic panel, and at extreme right there is a broken On/Off switch and 2 other control buttons. Both sides are plain with 2 screws on each.
The bottom has a number of punched holes and other metal formations. There are 2 stickers and 3 rubber feet.
On the back panel there are 4 RCA phono jacks, 2 coaxial jacks, 2 I/O jacks, a slide switch, and a jack for A/C power.
Numerous white markings provide information about the jacks and switches.
There is an FCC stamp, a caution stamp, and a certification stamp.
There is an "FMV extension socket" with a Phillips CD-I player digital video cartridge.
NOTE: the power requirement sticker on the back shows 350 mA.
Date
1991
Manufacturer
Philips Consumer Electronics Co.
Place Manufactured
Belgium
Identifying Numbers
| | | |
| --- | --- | --- |
| FCC ID number | EENCD1220 | Paper label on bottom, and stenciled on back |
| Model number | CDI220 BK02 | Paper label on bottom |
| Other number | 0384719003 | Paper label on bottom |
| Other number | 14981 | Paper label on back |
| Other number | AH01 9314 002457 | Paper label on back upper right corner |
| Other number | CDI220/37 | On 2 labels on back |
| Other number | ML1, 2 ... 15, 16 | Paper label on back |
| Serial number | 24724210 | Paper label on bottom |
Dimensions
overall: 3 1/2 in x 16 1/2 in x 11 1/4 in
Category
Fixed-application digital computer/entertainment
Credit
Gift of the DVD Association (DVDA)