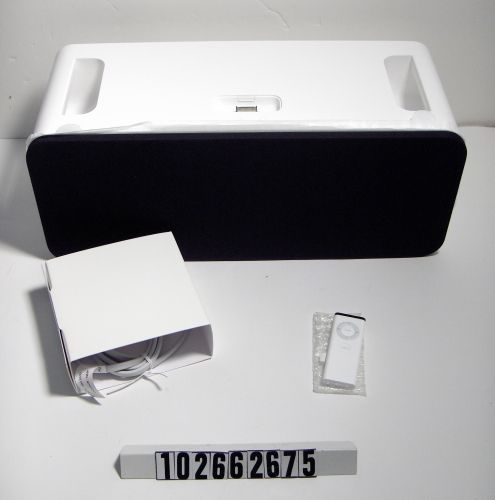 Title
iPod dock stereo prototype
Description
Object consists of ipod dock stereo, remote control and power cable. Object is in original packaging. Object is a prototype, sticke on box and dock say it has not been authorized by FCC.
On back of stereo there is a white label, handwritten in red "BO.6.6 REAL KEY". On outside of box there are 2 white labels, one handwritten reads "12C XUNIT", second reads "Victor unit #2( wide range mod only)".
Date
2006 ca.
Manufacturer
Apple Computer, Inc.
Place Manufactured
Taiwan
Identifying Numbers
Model number
A1121
Other number
123456789005
On box
Other number
603-7528
On bag for remote control
Other number
AT27-9
On bag for remote control
Other number
PT325659
Label with Bar code number, "Apple Develoment Team"
Part number
1PM9867LL/A
On box
Serial number
SN553301ADVT1
On box
Dimensions
overall: 12 in x 21 in x 10 1/2 in
Category
Fixed-application digital computer/media player
Credit
Gift of Jon Rubinstein