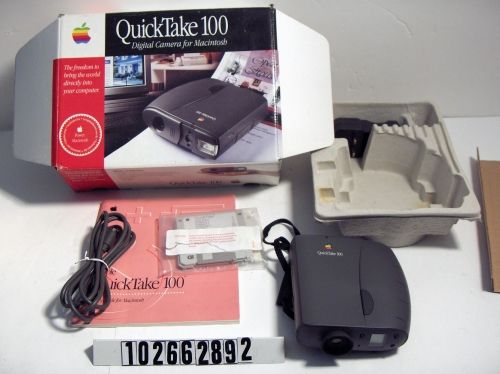 Title
QuickTake 100 Digital Camera for Macintosh
Description
Object consists of camera, charger, cable, three 2.5" floppy install disks, user manual, cardboard packaging, and original box.
Date
1994
Manufacturer
Apple Computer, Inc.
Place Manufactured
Japan
Identifying Numbers
Model number
KB39PA
Of battery charger.
Model number
M2613
Other number
1890810504
UPC code on box.
Other number
DX4491K02ULA
Barcode label on box.
Part number
1PM1644B/A
On outside of box.
Serial number
TL42705SM25Q
Stamped in black on label.
Dimensions
in box: 4 1/4 in x 12 in x 8 3/4 in
Category
I/O/A/V
Curator Notes
Apple's first foray into the digital camera market, the QuickTake 100, is seen as the first significant digital camera on the market for less than $1000. Unlike previous digital cameras which could only shoot greyscale images, the QuickTake took 24-bit color images, though had no display screen to preview images. The QuickTake was able to capture images at 0.3 megapixels with only enough on-card storage for about 8 pictures. When Steve Jobs returned to Apple in 1997, one of his first decrees was to end the non-computer lines, including the Newton, LaserWriter, and QuickTake lines. The design by Marc van de Loo and Tim Parsey was considered remarkable enough for inclusion in the collection of the Museum of Modern Art.
Credit
Gift of Allen Kossow