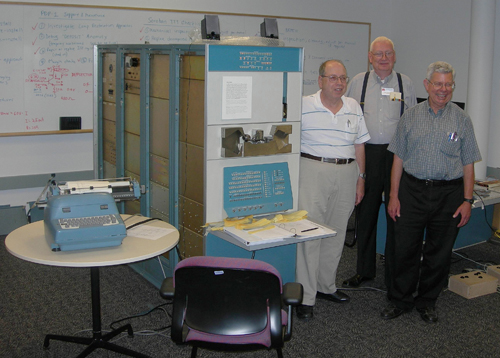 Title
From left to right: Alan Kotok, Peter Samson and Stephen "Slug" Russell in front the Computer History Museum's restored PDP-1 computer system.
Description
This is a color digital image of DEC PDP-1 undergoing restoration. Standing left to right are Alan Kotok, Peter Samson, and Steve Russell. All the men are smiling and looking to the right of the image. There is a blue alphanumeric typewriter on the left side of the image sitting on a small round table. The PDP-1 front console lights are on. There are several paper tapes and white binders on the table in front of the console. There is a whiteboard on the wall in the back with writing that reads "PDP-1 Support & Maintenance..."
Date
2005-07
Publisher
Computer History Museum
Place of Publication
Mountain View, Calif., U.S.
Dimensions
878 KB
Format
Electronic image
Category
Digital Image; Digital photograph; Group portrait; Identification photograph; Publicity photograph
Subject
Samson, Peter; PDP-1 (Computer); Digital Computer Corporation (DEC); Russell, Steve; Kotok, Alan
Credit
Created by the Computer History Museum PDP-1 restoration team