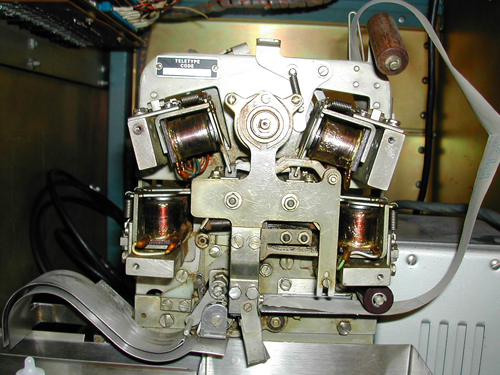 Title
DEC PDP-1 BRPE teletype punch tape machine being restored by the PDP-1 restoration team
Description
This is a color digital image of an interior side shot of the BRPE teletype punch machine. There is a piece of paper tape being fed into the machine from the right side of the image. Light is coming from the camera as flash is being reflected off the equipment. There is a plate on the top left corner of the machine that reads "TELETYPE CODE".
Date
2004-03
Publisher
Computer History Museum
Place of Publication
Mountain View, Calif., U.S.
Dimensions
288 KB
Format
Electronic image
Category
Digital Image; Digital photograph; Identification photograph; Publicity photograph; Flash photograph
Subject
PDP-1 (Computer); Digital Computer Corporation (DEC)
Credit
Created by the Computer History Museum PDP-1 restoration team