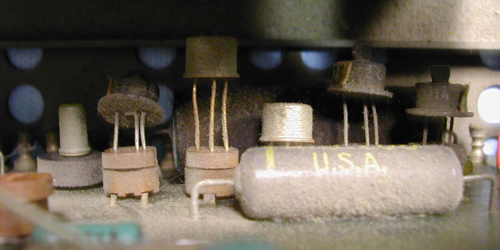 Title
Transistors inside the 50V power supply of a DEC PDP-1
Description
This is a color digital image closeup of several transistors inside the PDP-1 50V power supply unit being restored by the PDP-1 restoration team. Several of the transistors have 3 pin legs. The transistor in the foreground has labeled in yellow text "...U.S.A....". Inside of power supply is very dusty.
Date
2005-05
Publisher
Computer History Museum
Place of Publication
Mountain View, Calif., U.S.
Dimensions
278 KB
Format
Electronic image
Category
Digital Image; Digital photograph; Identification photograph; Publicity photograph; Macrophotograph
Subject
PDP-1 (Computer); Digital Computer Corporation (DEC)
Credit
Created by the Computer History Museum PDP-1 restoration team