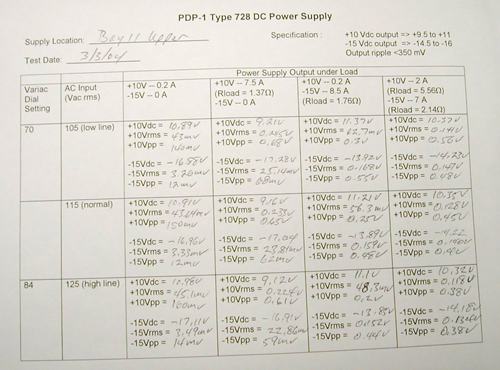 Title
Type 728 DC power supply chart used in DEC PDP-1 restoration project
Description
This is a color digital image of a PDP-1 Type 728 DC power supply chart that shows test date and location of power supply along with several measurements recorded under the power supply output under load. Written in the test date section is "3/3/04" and written in supply location is "Bay 11 Upper".
Date
2004-03-03
Publisher
Computer History Museum
Place of Publication
Mountain View, Calif., U.S.
Dimensions
277 KB
Format
Electronic image
Category
Digital Image; Digital photograph; Identification photograph; Publicity photograph
Subject
PDP-1 (Computer); Digital Computer Corporation (DEC)
Credit
Created by the Computer History Museum PDP-1 restoration team