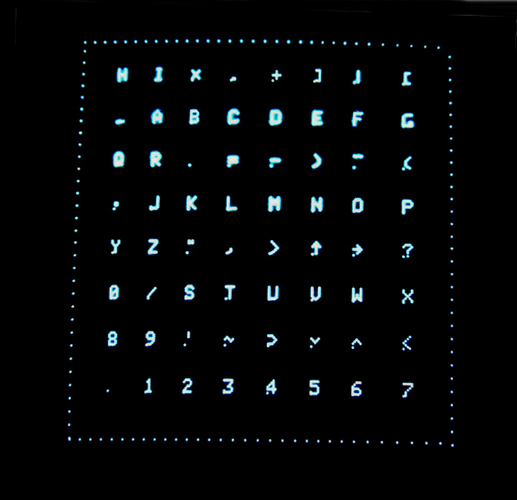 Title
Character test pattern on Type 30 display as part of the DEC PDP-1 restoration project
Description
This is a color digital image of a screenshot of several characters and symbols inside a square on the DEC type 30 display against a black background. Characters shown are upper case letters only of the alphabet and numbers from 0-9. Some of the symbols include punctuation marks and mathematical symbols.
Date
2006-09
Publisher
Computer History Museum
Place of Publication
Mountain View, Calif., U.S.
Dimensions
175 KB
Format
Electronic image
Category
Digital Image; Digital photograph; Identification photograph; Publicity photograph
Subject
PDP-1 (Computer); Digital Computer Corporation (DEC)
Credit
Created by the Computer History Museum PDP-1 restoration team