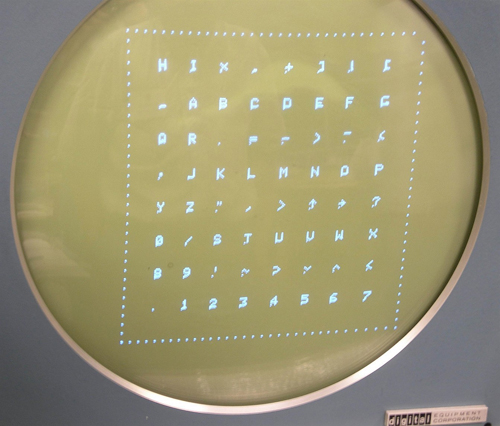 Title
Test characters on Type 30 display as part of the DEC PDP-1 restoration project
Description
This is a color digital image screenshot of several characters and symbols displayed on a DEC Type 30 display. The characters and symbols are aligned in a row within a square dotted box. Characters include the alphabet and numbers from 0-9. Symbols include mathematical and punctuation marks. Lower right corner of image is the DEC logo that reads "digital EQUIPMENT CORPORATION".
Date
2005-10
Publisher
Computer History Museum
Place of Publication
Mountain View, Calif., U.S.
Dimensions
306 KB
Format
Electronic image
Category
Digital Image; Digital photograph; Identification photograph; Publicity photograph
Subject
PDP-1 (Computer); Digital Computer Corporation (DEC)
Credit
Created by the Computer History Museum PDP-1 restoration team