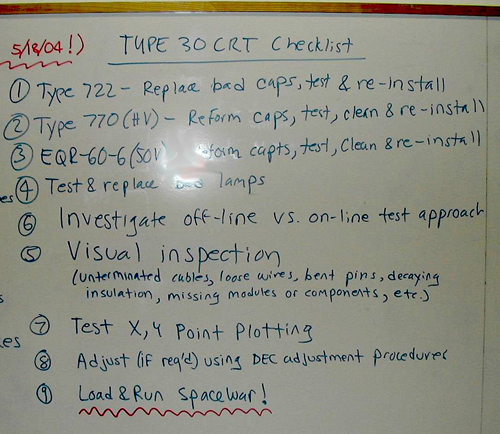 Title
Type 30 display checklist from the DEC PDP-1 restoration project (2003-2006)
Description
This is a color digital image of a whiteboard with writing in blue and red pens listing the checklist for the PDP-1 display. Written on the whiteboard in blue ink is "Type 30 CRT Checklist" which goes on to lists several itemized steps. At the bottom of the board is written "Load & Run Spacewar!". Written in red pen is "5/18/04" and is underlined. There is a camera flash reflection off the whiteboard that is obscuring some of the text.
Date
2004-05
Publisher
Computer History Museum
Place of Publication
Mountain View, Calif., U.S.
Dimensions
244 KB
Format
Electronic image
Category
Digital Image; Digital photograph; Identification photograph; Publicity photograph; Flash photograph
Subject
PDP-1 (Computer); Digital Computer Corporation (DEC)
Credit
Created by the Computer History Museum PDP-1 restoration team