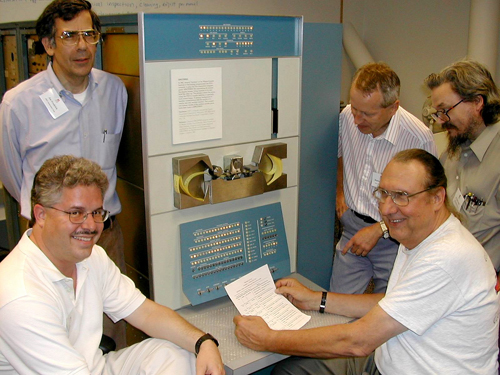 Title
Computer History Museum PDP-1 restoration team members. From left to right: Joe Fredrick, Bob Lash, Lyle Bickley, Rafael Skodlar, and R. Tim Coslet
Description
This is a color digital image of five men around the PDP-1. From left to right are Joe Fredrick, Bob Lash, Rafael Skodlar, Lyle Bickley, and Tim Coslet. Bob Lash and Lyle Bickley are in the foreground are sitting and wearing glasses and smiling. Joe Fredrick, on the left, is wearing glasses and a blue dress shirt with his hands behind his back. Both Rafael Skodlar and Tim Coslet are looking at the PDP-1. The PDP-1 is turned on and functioning as there is paper tape being fed through the tape reader.
Date
2004-06
Publisher
Computer History Museum
Place of Publication
Mountain View, Calif., U.S.
Dimensions
350 KB
Format
Electronic image
Category
Digital Image; Digital photograph; Identification photograph; Publicity photograph; Group portrait
Subject
Bickley, Lyle; Skodlar, Rafael; PDP-1 (Computer); Lash, Bob; Fredrick, Joe; Digital Computer Corporation (DEC); Coslet, Tim
Credit
Created by the Computer History Museum PDP-1 restoration team