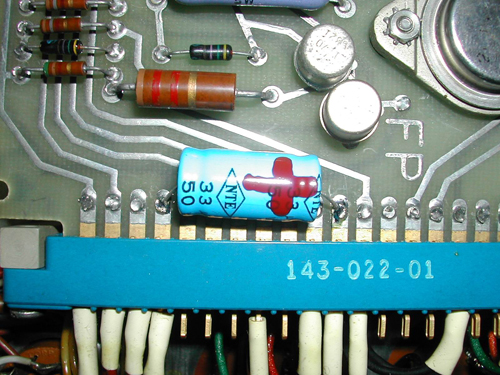 Title
New 30uf capacitor replacement by the DEC PDP-1 restoration team
Description
This is a color digital image of a new 30uf capacitor replacement for the PDP-1. It's colored blue with a red cross on the cover. Other labels include "NTE", "33", and "50". Stamped on the blue connector in white numbers is "143-022-01".
Date
2004-03
Publisher
Computer History Museum
Place of Publication
Mountain View, Calif., U.S.
Identifying Numbers
| | |
| --- | --- |
| Other number | 143-022-01 |
| Other number | 33 |
| Other number | 50 |
| Other number | DEC PDP-1 |
Dimensions
284 KB
Format
Electronic image
Category
Digital Image; Digital photograph; Identification photograph; Publicity photograph
Subject
PDP-1 (Computer); Digital Computer Corporation (DEC)
Credit
Created by the Computer History Museum PDP-1 restoration team